BIS MBISS
Am/Can Ch Ainsley's
Johnny Bravo ECM

HERO
Blue Roan Dog, whelped 9-6-2000
Breeders: Karen Griswa, Kyle Fitzpatrick and Mindy Bartholomew
Owner: Karen Griswa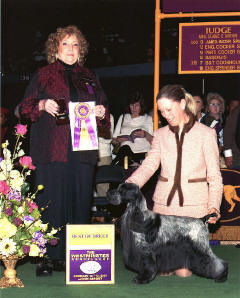 Best of Breed at the Westminster Kennel Club Show, February 2007. Hero is pictured with handler Carol Collins, who showed him as a special in 2005-2007.
Go to international coverage ...
I am especially grateful to my friend, the wonderful handler Carol Collins, who showed Hero as a special for several years and earned his place in the national rankings.
Carol and Dennis are part of Hero's family, and responsible in large part for his success. -- Karen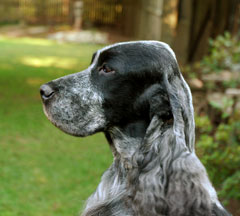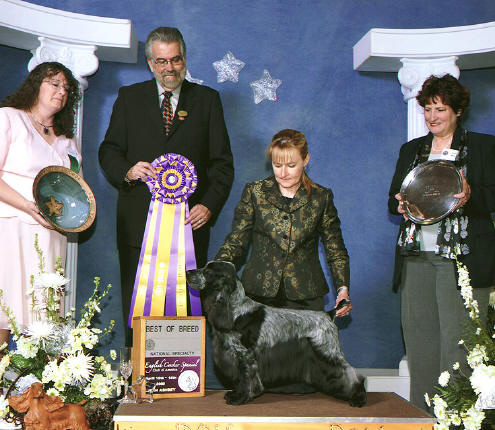 In April 2008, Hero took Best of Breed at the English Cocker Spaniel Club of America's National Specialty, from the Veteran's Class.
Genetic Profile
OptiGen Certificate (B)
BAER Test Report (Normal)
AKC DNA Analysis
OFA Hip Certificate (Excellent)
OFA Cardio Certificate (Normal)
ECM Certificate
Show Highlights
Championship
Finished as Best of Winners with a 5- point major under Jane Forsyth at Bryn Mawr KC, 15 June 2002. It was his third major win.
Best in Show
English Cocker Spaniel Club of America, National Specialty, under judge James Reynolds, from Veterans Class, April 2008
Sand and Sea KC, from Veterans Class, 30 March 2008
Best of Breed at Specialties and Supported Entries
English Cocker Spaniel Club of America, National Specialty, under judge James Reynolds, from Veterans Class, April 2008
Middleburg KC under Don Evans, from Veterans Class, 28 October 2007
KC of Philadelphia under Houston Clark, 18 November 2006
Spartenburg KC under Moray Armstrong, 14 February 2004
Greenville KC under Judy Corbett, 13 February 2004
Bryn Mawr KC, under judge Terri Burrows, 14 June 2003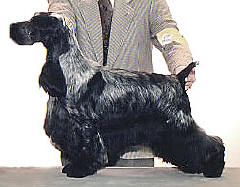 Hero's Sire: Ch Daisymead's Playboy ECM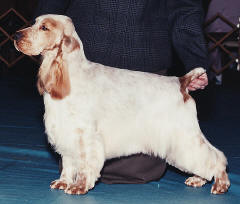 Hero's Dam: Ch Faerytails Leprechaun
Special Achievements
Best of Breed, Westminster Kennel Club, 12 February 2007

No. 3 English Cocker in the USA, 2006
No. 4 English Cocker in the USA, 2005
Top 10 English Cocker in the USA, 2004
American Spaniel Club, Awards of Merit three times

Best of Opposite Sex in Sweepstakes, American Spaniel Club, January 2002
Best in Sweeps, Winners Dog and Best of Winners at the Northeast English
Cocker Club Supported Entry in Springfield, MA, July 6, 2001
Best Puppy, Delaware Valley Supported Entry, June 2001

Breeding History and Champion Get (images below)

x Ch Barrister Ainsley High Style
whelped 3-17-2002
Ch Ainsley What's in it For Me, BR bitch

x Skylark Tropicana Sunnyside
whelped 9-16-03
Ch Skylark Brian Boru Ard Ri, OR dog

x Ch Gunpowder's Norcross Pumpkin
whelped 1-3-04
Ch Gunpowder's Norcross Nova

x Stage Door's Liza with a Z
whelped 4-28-04
Ch Stage Door's All About Eve, BR bitch
Ch Stage Door's Hot Tin Roof, BR bitch
Go to litter profile ...

x Ch Tuscany's Triple Sec CD SH
whelped 5-3-04
Ch Cobblestone Tuscany Calvados, BRT dog
Ch Cobblestone Tuscany Cointreau, OR dog
Ch Cobblestone Tuscany Corazon, BR dog
Ch Cobblestone Tuscany Tia Maria, BRT bitch
Go to litter profile ...

x Ch Boxhill's Busy Bee
whelped 6-11-04
Ch Lobarry's Take My Advice, BR bitch
Ch Lobarry Boxhill Busybody, BRT bitch

x Ainsley's Jazzy Blue Bonnet
whelped 10-9-2004
Ch Ainsley's The One's One, BR bitch
Go to litter profile ...

x Meadowfarm Meadowlark
whelped 12-7-04
Ch Meadowfarm Falcon, BR dog

x Ch Tomarcan Pennwood Valor's Avery
whelped 5-18-05
Ch Tomarcan Avery Destiny Katie, BR bitch

x Portrait Moonstruck
whelped 2-9-2007
Ch Ainsley's Portrait of a Hero, BR dog
Ch Ainsley's Hero in Disguise, BR dog
Go to litter profile ...

x Nashanic's Penny Lane, whelped 5-05
x Ch Redshaw Princess Margaret, whelped 9-05
x Boxhill's Krismis Gift, whelped 4-8-05
x Boxhill's Krismis Gift, whelped 6-06
x Ch Ainsley's Jersey Girl, whelped 5-23-06
x Silver Star Mississippi Queen, whelped 8-3-08
x Ch Darby's Daredevil, whelped 2-25-09
x Blueprint Ashbrook Tri'd and True, due 9-09